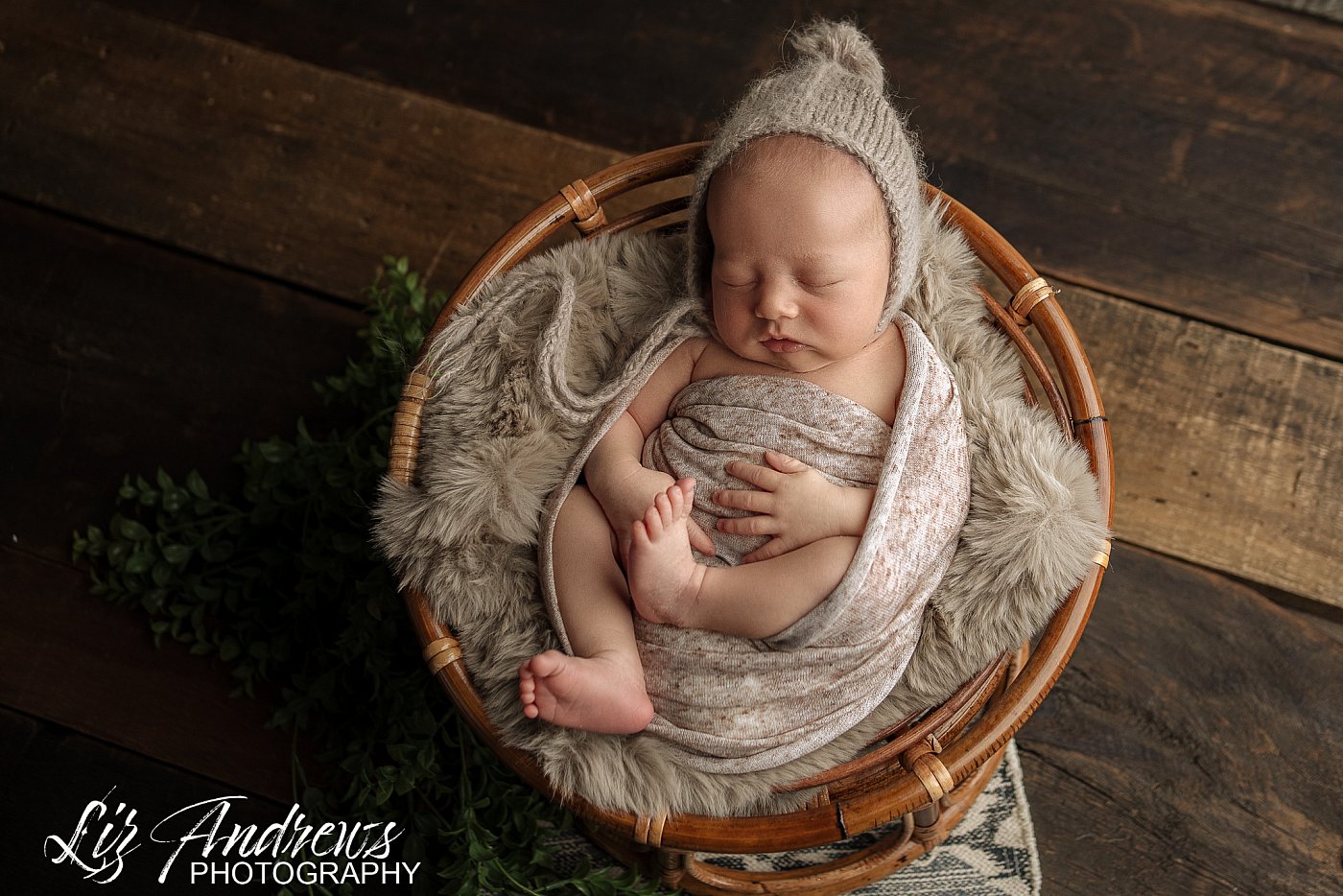 The session flows best when we have a sleepy baby!
When newborn's are awake, they will most likely be crying or at the very least moving around exploring the new world they have found themselves in. We can't take pictures when that happens.
It does happen but thankfully, it's easy to prevent, but almost impossible to fix once the session has started.
So here are a few things that could help ensure that baby will sleep.

Stimulate baby in the morning
Please give baby a bath in the morning before coming in for the session. This will stimulate baby and help baby tire out. Lotioning your baby after the bath will also help baby tire out. Allowing your baby to kick and be free for around 10-15 minutes while they dry will again bring us one step closer to a peaceful and sleepy baby!
Dress baby appropriately
Dress baby in a zip up sleeper, or a button up. NO undershirt please! We do not want any clothing we have to pull over the baby's head that will ensure they wake just as we are getting started.
Feed Baby
Before you leave the house for your session, please FEED baby.
This will allow baby to fall into a deep sleep while you are driving to the studio.
Babies have very few requirements at this early age, nourishment and warmth. If you satisfy these two ingredients for life, they will sleep and continue to grow and develop.
Bring a bottle (expressed or formula)
As a new mother, if you have chosen to breast feed, you will still be coming into your flow - you won't produce anywhere near as much milk as you will in a few months time and so your baby will feed little and often. Your body is wonderful and can quickly adapt to the babies demands but there will be times of the day where you produce more or less as your body adapts.

In order to ensure we are not unlucky during our session I highly recommend expressing a bottle in advance to ensure you can satisfy their hunger during the session otherwise your baby may not settle and there is a very real possibility you won't get any photos at all.
If you are mixing breast and formula, this becomes even more important because you body will have already limited the supply and it would be much harder to quench babies thirst with just the boob alone.
Bring a pacifier / soother

If your baby is only a little hungry or just looking for comfort a pacifier / soother works amazingly.
I will only use the pacifier/soother if your baby is having trouble transitioning into different poses or if the baby is simply unable to settle. Sometimes a baby just needs to suck for a few seconds to relax. This does not mean that they are hungry. However, if they are rooting for longer, I will give baby to mom for a feed and a snuggle.
If you are worried about nipple confusion, as a mother of 2 children, I can assure you that the few seconds or minutes of a pacifier/soother will not affect them. They will always prefer the breast milk over a dry pacifier however during a session it is sometimes impossible to move them off the breast without disturbing them.

I have had sessions without pacifiers/soothers and the babies were unable to settle, and those sessions result in no images. I feel terrible for the parents as they are unlikely to get this opportunity again with that baby, and it makes it awkward as my fee will not be refunded as I have usually spent time preparing the studio and then the time in the session.
I keep a stock of pacifiers/soothers in my studio which will be available to purchase for $5.00 if you have forgotten yours.
Mom and Baby Only
To keep the studio as calm as possible, only mother and baby will be permitted into the studio. This makes it easier for mom to relax and enjoy the newborn session to the full.
If this is your first child, then Dad is welcome, but please let me know in advance.
If you have other children with you, this could be extremely disruptive for the baby, and myself as I won't be able to 100% focus on your baby which would be a safety issue. I can't even permit them to play elsewhere on my property unsupervised due to insurance reasons, please make alternative childcare arrangements or we can reschedule your session to a time that would suit better.
What to expect
The session
The session itself will hopefully be fun for Mom! I have a lot of feedback that parents really enjoyed themselves and felt part of the session rather than just being witnesses.
With this mini session as it is just prop poses, I'll have 3 prepared and laid out for you to see. If you don't like them, we can change things up, I have everything to hand in my studio.
I'll put your baby in various wraps or rompers and then get the pictures of them in the props.
Getting your images
I aim to have my editing done within a week, sometimes it can take a couple of more days depending what time of year it is (fall is super busy) or I might have them done the next day! You'll get an email from my website when they are ready so please keep an eye out and ideally add my info@lizandrews.com address to your safelist.
As this session includes 6 digitally edited images, you will have 6 download credits assigned to your account. You can add the 6 images you like the most to your cart and checkout for free making those 6 images immediately available for download. If there are more than 6 available, you can add additional images to the cart for a small fee. Please note, if you don't want a cap on your images, I suggest you look at my (full) Studio Newborn Session which also includes fabric and family poses with no limits on images.
Prints and Canvas'
Once you have selected the images you want, I will add them to a new gallery that you can share with your friends and family, and also order prints and canvas' from. If you want an fancy album, please contact me and I can go through the options with you.
Now some questions for you
Below are some questions that will help me taylor the session to you and make me aware of anything I need to know in advance so I can make the time we have together as smooth and efficient as possible.